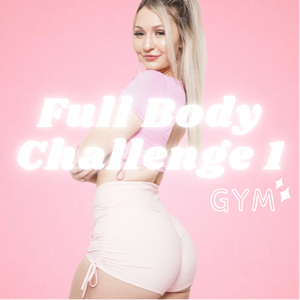 Get ready for your transformation! This FULL Body Challenge 1 Gym program is intended to make you not only see results, but feel happier and healthier too! Follow my Grocery Guide, Workout Glossary, and Workout Tracking Sheets... Then you will be on your way to a healthier and happier you! This challenge focuses on sculpting your body and building endurance. It is great start to your fitness journey to build a healthy foundation of knowledge and strength. 
This challenge is great for weight loss and building a solid foundation for your body💦
Will be sent immediately via email you enter at checkout!

Includes:
-8 Weeks of Workouts (5-6 workouts a week for you to choose from) 
-Includes the ABs Challenge, Booty Building Basics, and Upper Body Basics Programs 
-Booty Cardio, HIIT workouts, and cardio
-Booty Warm-Up Exercise
-Workouts for all major muscle groups(upper body, lower body, abs)
-Workout Glossary(explains how to do each workout)
-Workout Tracking Sheets(track your progress daily)
-Gym based workouts
-The Grocery Guide and My Smoothie Recipe
-My Supplement Routine
-Videos with demonstration on my Instagram account @julieannafitness
-Equipment needed for GYM based program: dumbbells, barbells, bench/box, resistance bands, leg extension machine, leg press, cable machine, and hamstring curl machine for minimum 
Programs are sent to the email you provide at checkout, please be careful when entering your email!
BONUS: You will ALWAYS get to keep the programs you purchase!
ALL SALES FINAL